I's real! It's really real! I've actually been percolating this post for a couple of weeks, just as Hollywood was percolating the deal, and it finally came together:
The Fifth Season will get a TV series!
Who wants to fantasy cast it with me? (Observation: when you say you're fan casting
The Fifth Season
, a large proportion of people will say "the fifth season of what?")
I've been thinking about this for days, ever since I realized that I really wanted
Lance Reddick
for Alabaster. He often plays hypercompetent (see
The Wire
), which is very Alabaster; I think he could do haughty and despairing with the same skill.
Lance Reddick via IMDb
So that got me thinking about who else I'd cast. After I saw
The Girl with All the Gifts
, I was thinking that
Sennia Nanua
, who plays Melanie in that movie, might be great for Damaya, who is first learning that the world is going to hate her and what that will mean in her life. It's a more vulnerable role than Melanie in a lot of ways, but Damaya has a stubbornness that I think Nanua would bring to the role.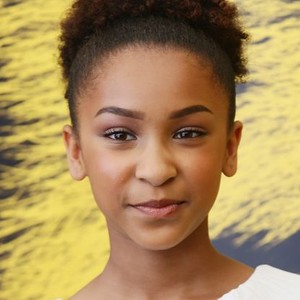 Sennia Nanua via Rotten Tomatoes
Then there's Syenite. She's a young woman with a lot of controlled anger and frustration, talented at her job and infuriated with her new mentor. I'm thinking
Keke Palmer
. I haven't seen her in a ton of stuff, but I found her in my research and she seems like a really smart actress with a lot of range. It's tricky to pick a photo for her, since most of her shots are glamorous, and Syenite is practical.
Keke Palmer via IMDb
And of course, Essun. Essun is the key, the second person heroine, the one who will be around for all three books. She's the one with the past, full of sorrow and a driving, unstoppable focus on her daughter. She's a bit more mature--a parent, and someone whose illusions have all been shattered so many times that it's amazing she's still walking around. A big role.
Danai Gurira
. She's proven herself playing an action role (
The Walking Dead
), but the rest of her resume shows so much of the range I want to see in this character.
Danai Gurira via IMDb
For Innon, I can't get past picturing
Dwayne "The Rock" Johnson
, because the role calls for a big, cheerful, goodhearted fellow who makes everyone happy. But I think he might be too much of a celebrity for it, and it might be too dark for his image as an actor. So I'm coming around to the idea of
Okieriete Onaodowan
, better known as the originator of the role Hercules Mullligan in Broadway's
Hamilton
. I think he can do that big, genial, lovable, powerful fellow.
Okieriete Onaodowan via TheaterMania






I was completely stumped when it came to Schaffa, and I was ready to post this without him. He's supposed to be pale and lean, with dark hair and ice-white eyes, a very still, often gentle character who is reassuring until you get to know him and thereafter menacing as hell. My problem was that I kept thinking of very old men for the role, but both by physical description and based on the action of the series, Schaffa is, not young, but in the prime of life.
But Lily had the perfect answer to this question:
Aiden Gillen
. He's almost too perfect, because it's so perfectly in his wheelhouse--he is the most civilized, friendly man in the room. But he will not flinch when he breaks all the bones in your hand to prove a point.
Aiden Gillen via IMDb
Lily also had an alternate suggestion for Essun that leaves me torn:
Gina Torres
. Again, kind of perfectly on the nose--stoic badassery is her thing. Honestly, the only thing I'm not sure of is whether she can do the brittle vulnerability that Essun barely keeps under wraps, because Gina Torres is made of pure steel. She could capture Essun's very precise balance of "I could kill you where you stand and I literally can't think of a reason not to, but it will not get me what I want, because that is something that can never be." It's a very specific brief, and it's right in her wheelhouse.
Gina Torres via IMDb
Lily also helped me with Hoa; I was totally stumped there. She had a suggestion of the kid from
Parenthood
, which I had never seen, but that kid is in his 20s now. But the picture made me think of
Finn Wolfhard
from
Stranger Things
, and I think he might be my choice for Hoa. At the very least, he is delicate and pale but also, I could believe he was made of marble.
Finn Wolfhard via IMDb
The only character we couldn't be sure of was Tonkee. I feel like there are a lot of people who could do her--
Tracee Ellis Ross
came to my mind, though I've only seen her in photos, never seen her act. But she has that intense, physical, focused kind of energy that comes across as slightly manic (at least on the red carpet) that would fit Tonkee to a T. I
think
she might be my choice, but I could definitely be wrong; let me know if she's a good choice.
(I don't want to be too spoilery, because I know a lot of my friends haven't read the books yet but plan to, but I will say that I thought about a different type of actress for Tonkee, but could not ultimately come up with a choice that seemed right, partly because of Tonkee's age and partly because I just don't know enough actresses who meet that criteria. But suggestions are welcome!)
Tracee Ellis Ross via IMDb
So there you have it; the line-up that Lily and I have come up with. I'm absolutely sure there are lots of other great choices; suggestions, critiques, etc. welcome. Let's dream big, guys!
I absolutely cannot wait.
The Stone Sky
is here on my Kindle. Squee!